What? Yes. Of course there is knitting going on in TheCastle, but it's Christmas Knitting and not for public viewing. Rest assured - proof of creativity is coming at TheCastle Near You. But on this delicious Extra Hour weekend - when daylight savings time goes off at last - I wanted to savor all the outdoor pleasure I could. Alas - the house - a house with spoiled puppies owned by geezers who indulge their dogs way more than they did their children - was an utter wreck so I had to put in hours doing laundry, cleaning kitchens, vacuuming the dust dinosaurs out from under the bed. But once all that was done, I decided to take the Baby Puppy Juno, for a walk.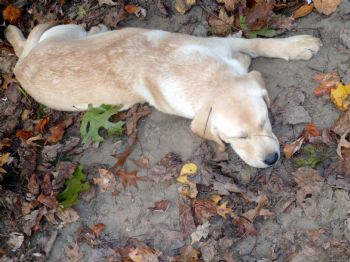 Here she is, helping me hang out the laundry.
My yard has many windows into the jewel box that is autumn splendor in Virginia. Here are the topaz leaves in their emerald setting.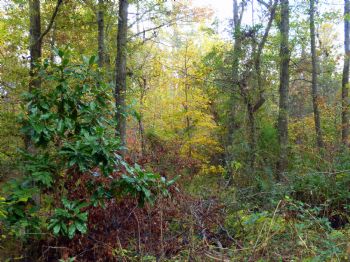 I love a meandering lane - there's just something magical about a curve in the road and this is the lane to my house - so I get to enjoy it every day!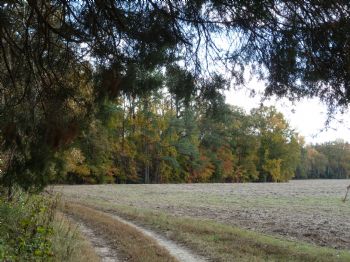 It was actually a very balmy day yesterday but you could tell by the sky that the weather was changing.
Little Juno was ready for any adventure. This is the half mile point we walk to most often, in the early mornings.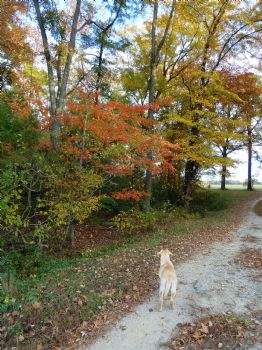 She's still at the pee pee poo poo chew chew puppy stage. It's a little extra work around the house but it's so much fun.
There were so many beautiful autumn colors popping out of the ground,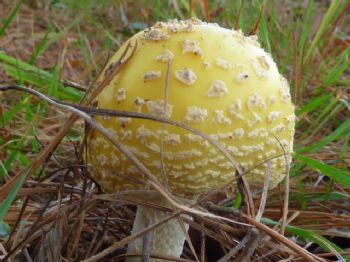 on the branches,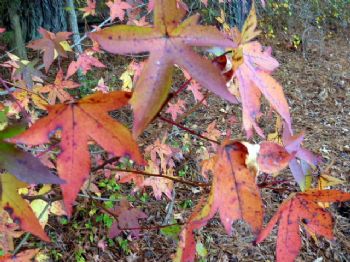 in the sky - it was just a glorious day.
I count myself as extremely fortunate to live in a place where my family has lived for centuries. We can see evidence of occupation all over the place - in the woods there are old corn cribs, across the fields are old tenant houses. They remind me that I'm part of a line of humanity that was before and will be afterwards. It makes me feel cozy and loved even when I am alone.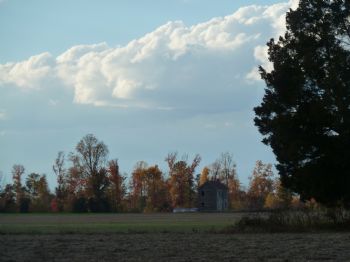 We just took the loop around the property - out the lane and home along the rim path. This was Juno's first time exploring the path all by her doggy self - since Callie, the big dog, was out on the sailboat. She felt very bold.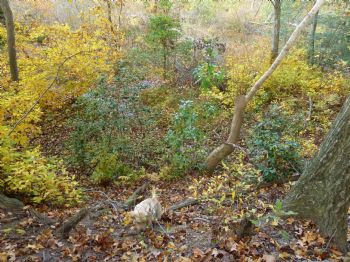 And then we were back home again and ready for some supper! FEED ME MAMA.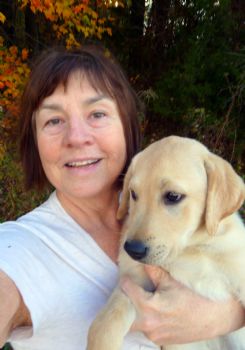 Hope you enjoyed walking around the farm with me. Today I will be gathering Black Walnuts. There's a super abundance of them and I think it's time I took advantage of the bounty. And I well begin planting the birthday daffodils.
Happy Sunday